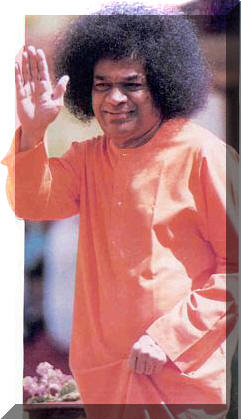 With the Blessings of
BHAGAWAN SRI SATHYA SAI BABA
SRI SATHYA SAI TRUST – MAHARASHTRA
&
SRI SATHYA SAI SEVA ORGANISATIONS, MAHARASHTRA & GOA
Have Organized
SREE MOOKAMBIKA DEVI SHATHA CHANDI MAHA YAGNA
From Wednesday June 29th 2005 to Friday 1st July 2005
at
SAI PREM, Plot No.13 A, Balaji Mandir Marg, Sector 10 A, Vashi, Navi Mumbai 400703
All are cordially invited to participate in the Maha Yagna and receive the blessings of SREE MOOKAMBIKA DEVI.
PROGRAMME
DAY 1 – WEDNESDAY 29TH JUNE 2005
7.00 AM Procession starting near Jain Mandir carrying Kalasham accompanied by Seva Dals chanting Vedic Mantras and Bhajans.
7.15 AM Kalasha Sthapana at SAI PREM
7.15 AM Veda Gosham
to Punya Vachanam
1.30 PM Kshetrapala, Guru Prarthana
Maha Sankalpam
Rutvik Varanam
Saptha Shatha Chandi Paarayanam and Japam
Shatha Chandi Kalash Sthapana
Veda Mantra Archana
Ganapathi Homam
Sai Gayatri Homam
Mrutyunjaya Homam
Purnahuti
Mahamangalarathi
6.30 PM 108 Gayatri Archana By Devotees
7.30 PM SPECIAL BHAJANS
8.30 PM AARTI & PRASAD
DAY 2- THURSDAY 30TH JUNE 2005
7.30 AM Veda Gosham
to Punya Vachana
1.30 PM Kshetrapala, Guru Prarthana
Maha Sankalpam
Rutvik Varanam
Saptha Shatha Chandi Paarayanam and Japam
Shatha Chandi Kalash Sthapana
Veda Mantra Archana
Maha Sudarshana Homam
Dhanvantari Homam
Purnahuthi
Mahamangalarathi
6.30 PM Sri Sathya Sai 108 Ashtotra Namavalli
7.00 PM Namasankirtan by Maharashtra Abhang Ratna
Shri Ganeshkumar
8.30 PM AARTI & PRASAD
DAY 3- FRIDAY 1ST JULY 2005
7.30 AM Maha Ganapathi Pooja
to Punya Vachana
3.00 PM Prarthana
Navakosha Homam
Chandi Homam
Peetha Avarna Mantra Homam (to be performed on Mahalakshmi, Maha Saraswati, Maha Kali & Durga Devi)
Vasordhara
Maha Purnahuti
Mahamangalarathi
7 PM SPECIAL BHAJANS
8.30 PM AARTI & PRASAD
For any further information / queries, please contact
Shri. D.N. Moorthy – 27801867
Shri. G. V. Ramanan – 27801867 / 25221240 / 27663466
Shri. L.Ganeshkumar – 27801867 / 9820050413
Significance of the Mookambika Yagna to Humanity. Some details
gathered from few websites.
Sri Mookambika (Sri Kollur)
This small, ancient, sacred town is about a four-hour bus ride northeast of
Mangalore. The sacred Sauparnika River flows through the town.
Located here is a temple dedicated to the goddesses Maha-Lakshmi, Saraswati, and Durga, combined as Mookambika. Sri Devi Mookambika destroyed the powerful demon Mookasura. There are several other deities in the temple. There is also a temple dedicated to Lord Krishna here.
Mythology:
Long ago when a demon called Kaumasura obtained a boon from Lord Shiva was reigning pompously, Kodachadri became the hiding place for all
the Gods and divine beings who became helpless against his harassment.
While the Saptarishis were engaged in prayers and poojas to bring about the end of demon kaumasura, Guru Shukracharya enlightens him about his impending death at the hands of a woman. Learning this, kaumasura performs an austere penance to please Lord Shiva. When Lord pleased with his prayers, appears before him and asks him to name the boon that he wishes, Vagdevi, the Goddess of speech senses that this could lead to a greater devastation and makes him speechless. The dumb Kaumasura then becomes unable to verbalise his wishes and then onwards he is called Mookasura. Soon after, on the request of Kola Rishi, the goddess creates a mystical power by bringing together the individual powers of all the gods who had assembled. This Divine Power wages war on Mookasura and brings about his destruction, thereby granting him salvation. The place where devi killed Mookasura is known as "Marana Katte".
Since that day, the Goddess has resided at this holy place Kollur by the name Mookambika, fulfilling the wishes of all her devotees.
Here resides Sreedevi in the Padmasana posture, of a serene countenance, and with three eyes, bearing always a shankha, a chakra and with a pleasant appearance as the embodiment of mantra to bless the devotees.
Another Mythology is
Sri Devi Mookambika is situated near the hills of Kodachadri. She is the three-in-one from of Mahakali-Mahalakshmi-Mahasaraswati. She is present in the form of a Jyotirlinga, which has a golden line separating the Linga into two halves, representing Shiva and Shakti.
The Skanda Purana extols the glory of this holy place. It is a Siddha Kshetra. Even to this day, this place is free from crimes such as robbery due to the living presence of the extremely powerful Goddess.
It is said that Shankaracharya reached this place in the night, when the Goddess was roaming around in the ferocious form of Maha Chandi. Acharya pleased her with his sweet hymns and then she appeared to him as Mahatripurasundari, the most beautiful one in the three worlds. As per her instructions, the Acharya established a Srichakra in front of the Jyotirlinga. He also established an incredibly beautiful image of Sri Devi as she appeared in front of him. It is believed that all incarnations of Sri Devi like Mahishamardini, Kaushiki, Mahalakshmi, Bhramari merged into the divine Shiva-Shakti Jyotirlinga after the completion of their missions. Thus the Goddess Mookambika is said to be the congregation of all Gods and Goddesses.
Significance Chandi Yagna
Chandi is the mother of the universe. She is considered to be MahaKali, Maha Lakshmi, and Maha Saraswati combined into one form. She is also known as Devi Durga who manifested from the powers of all the Gods like Brahma, Vishnu, Shiva and Dikpalakas to destroy the demons.
According to Markandeya Purana, Chandi is the Yogomaya of Lord Vishnu.
She destroyed demons (rakshasaas) like Madhu, Kaitava, Shumbha, Nishumbha, Chanda, Munda, Raktabija, Dhumrakshana and the main demon Mahishasura during the nine days of the Navaratri in the month of
Aswayuja. These demons are nothing but the demonic qualities of a human being like anger, jealousy, hatred etc. Praying to Goddess Chandi will destroy all these bad qualities in us. The text of the Chandi Purana is known as Saptasati. It consists of seven hundred slokas that describe the battle between Goddess Chandi and the demons.
The slokas from the Chandi Puranas are chanted while performing the Chandi Yaga. Also chanted are other slokas such as the Durga Suktas, Devi Suktas, and Ratri Suktas.
LOKA SAMASTHA SUKHINO BHAVANTHU
LOKA SAMASTHA SUKHINO BHAVANTHU
LOKA SAMASTHA SUKHINO BHAVANTHU