The Maha Yagna at Dharmakshetra from 16th May, 2005 to 18th May, 2005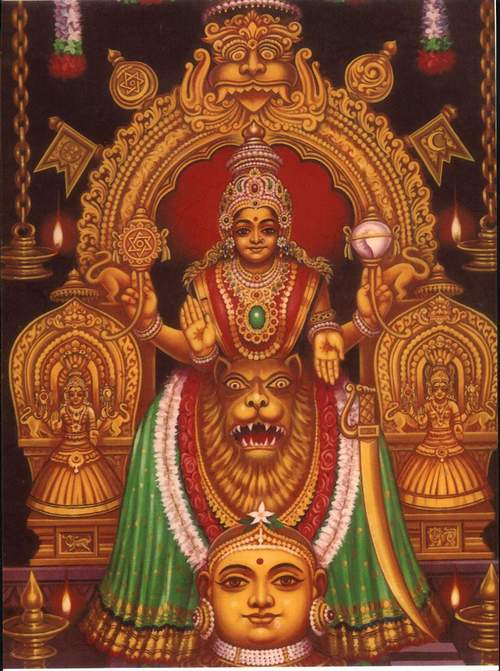 (All the devotees present during the Yagna on the final day received a picture of Mookambika Devi shown above)
Sri Mookambika Devi Satha Chandi Maha Yagna
The Sri Mookambika Devi Satha Chandi Maha Yagna at Dharmakshetra refreshed all of us in body, mind and spirit. The Yagna was attended by over 2500 people during the last three days. It was really astonishing to see devotees coming in large numbers in Dharmakshetra. Baba's Divine Presence could be felt throughout the Yagna.
All the Trust members including Mrs Sarla Shah & Mr Indulal Shah participated in this Divine Yagna. The Vedic chants of the mantras were of the highest standard. Sixteen pandits were invited to perform the havan. They also chanted the Dhanavantri Mantra which is the mantra for good health.
Elaborate prasad arrangements were made and that the devotees were not put to any inconvenience. Many devotees stayed on for the full Yagna.
An eminent pandit Shri Gauri Shankar Shastri narrated the benefits and characteristics of performing such a Yagna and also stated that the objective of the Yagna was to pray for universal peace.
The offering made to Mookambika Devi included sarees, blouses, jewellery, flowers and fruits etc which were all put in the sacred fire.
The Sai Gayatri was chanted 28 times before the Poorna Ahuti. The closing ceremony of the Yagna (Poorna Ahuti) was highly charged. The Yagna ended with the sprinkling of the holy water on the devotees present in the Prayer Hall.
All the devotees present received a picture of Mookambika Devi and felt joyous, happy and blessed.