SRI SATHYA SAI TRUST, MAHARASHTRA .
Mahakali Caves Marg, Andheri(East),Mumbai-400 093.
---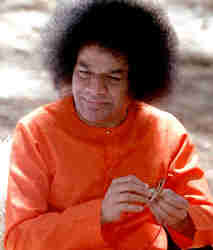 May 16, 2006.
Sri Sathya Sai Trust launches Statewide Nutrition Programme for 15,000 Malnourished Children
Here is a good piece of news for the tribal and backward districts of Maharashtra. The Mumbai-based Sri Sathya Sai Trust, Maharashtra has launched two statewide mega projects for the benefit of the poor people.

These are:-
(a) The Malnutrition Eradication Project designed to provide a supplementary diet for about 15,000 malnourished children in all districts of Maharashtra;
(b) The Super Speciality Medical Network Project to provide expensive medical and surgical services to the suffering poorer population in the state.
These twin projects were announced at a meeting of devotees in Mumbai on the occasion of 38th Anniversary of 'Dharmakshetra' held recently. Among those present at the meeting were Sri Indulal Shah, International Advisor, Sri Sathya Sai Organisations and Dr. K M Mistry, Trustee, Sri Sathya Sai Trust, Maharashtra, renowned artist Shri Sudhir Dalvi and other office bearers.
The Malnutrition Eradication Project is actually the Second Phase of the ongoing Sai Protein Programme, which is presently being implemented at Mumbai's various slums in localities like Worli, Sion-Wadala, Chembur, Ghatkopar, Shivaji Park-Mahim, etc.
In the past two to three decades, while conducting frequent medical camps at Mumbai's slums, Sathya Sai teams of doctors hit upon a stark reality that no amount of medical and surgical help to would be of any avail, unless they tackled the protein deficiency in the diet of people, especially children.
Their findings were also corroborated with many reports which appeared in the media that protein deficiency was not only causing deaths of children, but also incurable physical mental deformities, totally stunting the growth of tribal children in backward districts like Gadchiroli in Maharashtra.
Alarmed by the findings, the nutrition experts at the Sri Sathya Sai Institute of Agriculture & Biotechnology got engaged in extensive research and finally came up with a formulation of Sai Poshak Ahar, which is a well-designed, easily digestible protein-rich food supplement, ideal for undernourished children. The Poshak Ahar contains protein-rich germinated cereals (raagi), germinated pulses (moong), sugar, cardamom, salt, natural minerals, and vitamins.
After developing this formulation, Sri Sathya Sai Trust conducted extensive field trials by distributing the Poshak Ahar to children in tribal areas of Jalgaon District under the State Government's Navsanjeevani Scheme. After observing the miraculous improvement in the health standards of the beneficiary children, the District Collector's office and Zilla Parishad of Jalgaon have not only certified the Poshak Ahar for its efficacy, but also requested the Trust to extend the scheme to all the 804 malnourished children identified in the district.
The Trust authorities have called for active public participation in this project - either by offering to their personal service to work with various Samithis for distribution of Ahar. They also have the opportunity to adopt / sponsor one or more children's diet at a cost of Rs.500 per child for four to six months. Those desiring to do so should get in touch with: Shri K B Santhanam, Sri Sathya Sai Poshak Ahar Project, Dharmakshetra, Mahakali Caves Road, Andheri(East), Mumbai 400093 or call on 98672 62734 ; or email on kbsanthanam@vsnl.com
Sri Sathya Sai Super Speciality Medical Network Project
The newly launched Sathya Sai Super Speciality Medical Network Project is the second phase extension of the ongoing Rural Medicare Services project which is in the 8th year of operation in the State. The project aims to achieve the goal of providing super speciality medical and surgical treatment, free of charge, to the needy people, without the cost of putting up a hospital for the purpose.
This project entails enlisting the eminent medical practitioners and surgeons, who volunteer to render free services in the diverse fields of their specialization to the needy patients utilizing their existing hospital facilities. The Trust will provide the logistical support, including money for medicines and material.
Already scores of well-known physicians and surgeons, specialised in diverse fields of healthcare, have offered their free services for a few days every month. Similarly, many reputed hospitals in Mumbai have also voluntarily offered their facilities such as beds, operation theatres, diagnostic centres etc. for free treatment of needy patients for the benefit of specified number of needy patients referred to by the Trust.
In-Charge-Media Relations Cell-
Sudhir Joshi
98202 51054